Shri Shri Gnyan Mandir, Dahigaon, Tal. Malshirash, Zilla Sholapur.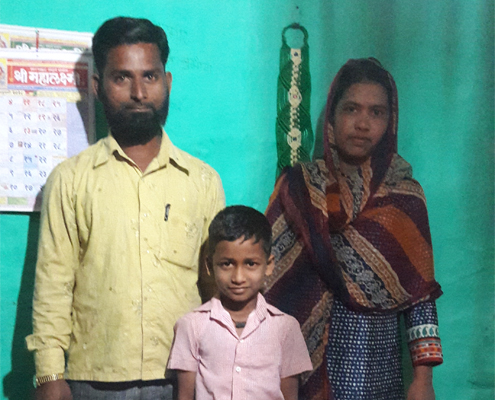 Name of student: Mustafa Samir Mulani
Standard: Second
Mustafa Samir Mulani is second standard student of Shri Shri Gnyan Mandir. He is a very silent boy from a Muslim family studying in the school since last four years. His parents share that they were aware of the Art of Living and also about the school. They had heard that the school promotes stress free and value based education. Hence they decided to take admission in Shri Shri Gnyan Mandir.
Mustafa's father plays music in band for different functions hence he is unable to pay attention to his children. Mustafa faced a speaking problem since childhood. He used to stammer a lot while speaking. He was not interested in studies and he liked to watch TV and play on the mobile phone. His father was really worried about Mustafa's future.
Nowadays Mustafa's parents have noticed a lot of positive change in him. Apart from doing Namaz with us in the morning, he chants Sanskrit Sholakas and Gayatri Mantra. He practices the yoga, Pranayam taught in the school after he comes home. He also encourages his parents to practice yoga, Pranayam, meditation and Satsang. Mustafa's speech has become very clear now, and his parents think that this is due to the effect of the Shloka's and friendly and conducive environment provided by the school. His addiction to television and mobile has also decreased and he takes more interest in his studies. He has started respecting his elders and all living and non living things. Even though his family eats no vegetarian food he has become a vegetarian. He has started promoting the importance of vegetarianism in the family. He has also asked his parents to undergo the Art of Living Happiness Program.
Mustafa's father feels that he will grow u as a fine and a confident individual and will be able to achieve whatever he desires in life. His parents thank the school for their efforts for rural children.