ATREYA: MUSIC FOR A CAUSE, BANGALORE
Atreya is a beautiful venture to connect people to support the cause of free education through music. Atreya supports the Free, Holistic and Value based education to the underprivileged children in India that is provided by The Art of Living to over 67,000 children in 618 Rural, Tribal and Slum schools.
Music is a universal language of communication that does not require words. Atreya presents a platform for Classical Musicians (Hindustani & Carnatic) to reach out to thousands of music lovers across the globe overcoming all barriers ofrace or religion to be a part of the "Gift A Smile" project that supports these schools.
Ved Vignan Maha Vidya Peeth, Bangalore Rural
This is the first free school established by Gurudev Sri Sri Ravi Shankar in 1981. Located opposite the Art of Living International Center, the school has students from 53 surrounding villages.
The school, which started with 30 students, is now providing holistic education to 2000 underprivileged children. They are not only provided free education but also books, uniforms, bags, transportation and Mid-Day meals. Yoga, pranayama and meditation is part of their daily curriculum with emphasis on human values.
To Support the school, we are planning an Atreya Concert in Bangalore City. Following are the details
Date:     1st December, 2018
Venue: B.R. Ambedkar Bhavan
Time:    6.30 pm onwards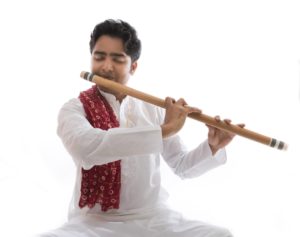 Bhaskar Das
Bhaskar ji's journey into this world of music began from the
age of three, his father being his first guru. He also received
guidance by Acharya Pandit Anupam Rai and has been
under the tutelage of Pandit Udai Mazumdar. He has
performed extensively in India and abroad as a soloist and
as part of a group. His strength lies in his ability to imbibe the
essence of classical music's rich heritage while being able to
then interpret it in his various collaborations.
Bhaskar is also a favourite with Bollywood composers for
studio recordings, and works with renowned artistes, such as
Sonu Nigam and Roop Kumar Rathod etc.
Art Of Living Free Schools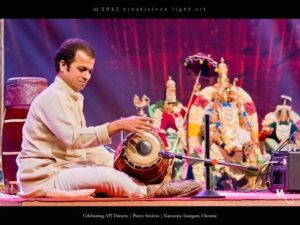 B. Guru Raghavendra
Guru Raghavendra ji is a Mridangam player from Chennai,
and hails from a family of musicians. He started playing
Mridangam from a tender age. He took his initial Mridangam
lessons from his grandfather Palayamkottai Venkataramana
Rao and continued under the tutelage of (late) Kalaimamani
Thinniyam Y. Krishnan, a Retired Staff Artiste, AIR,
Pondicherry. He has accompanied several eminent
musicians and performed on various platforms in India and
abroad. He has learnt carnatic vocal for a short duration from
Sri Anayampatti Ganesan and has also played kanjira for
few concerts and fusion music. He is an "A" Grade Artiste
(AIR, Chennai) and has been blessed with Asthana Vidwan
of Sri Kanchi Kamakoti Peetam among other titles.
Art Of Living Free Schools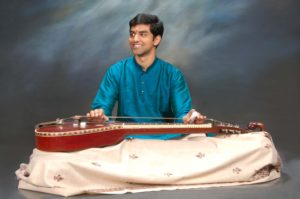 Vishaal R Sapuram
Vishaal ji is a talented Carnatic vocalist and chitravina
artiste. A child prodigy, he was initiated into Carnatic music
under Smt Karpagam Narayanan of Houston, U.S.A. at the
age of three. At age six, he came under the tutelage of the
internationally renowned Chitravina Shri N Ravikiran and
had the good fortune of learning from Shri Ravikiran's
renowned father and guru, Chitravina Shri N Narasimhan. At
thirteen he began to perform on the exquisite chitravina, the
rare fretless lute, and became one of its few practitioners of
todays generation. He has since performed at several
prestigious venues across India and including in jugalbandis
and fusion ensembles. An A-Grade artiste for All India
Radio, Vishaal has won several accolades.
Art Of Living Free Schools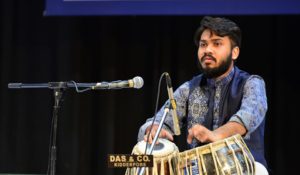 Yashwant Vaishnav
Yashwant ji is a student of Indrakala Sangeet
VishwaVidhyalaya. He started his basic Training at the age
of 3 years under the Guidance of his father Shri Rajendra
Vaishnav, followed by a regular course in tabla from Shri
Hemant Sachdeva and then undertook 13 years of intensive
learning in tabla from Pt Mukund Bhale ji. He is presently
learning from renowned tabla player Pt Yogesh Samsi
(Disciple of Ustad Allarakha khan Sahab) in Mumbai. He
was awarded the highest child artiste award (BalShree
Award) in 2008 by then Hon. President Smt. Pratibha Patil.
He has been invited for presenting tabla solo performance in
many prestigious concerts.
Art Of Living Free Schools
We invite you to be part of this beautiful event and help transform the lives of underprivileged children